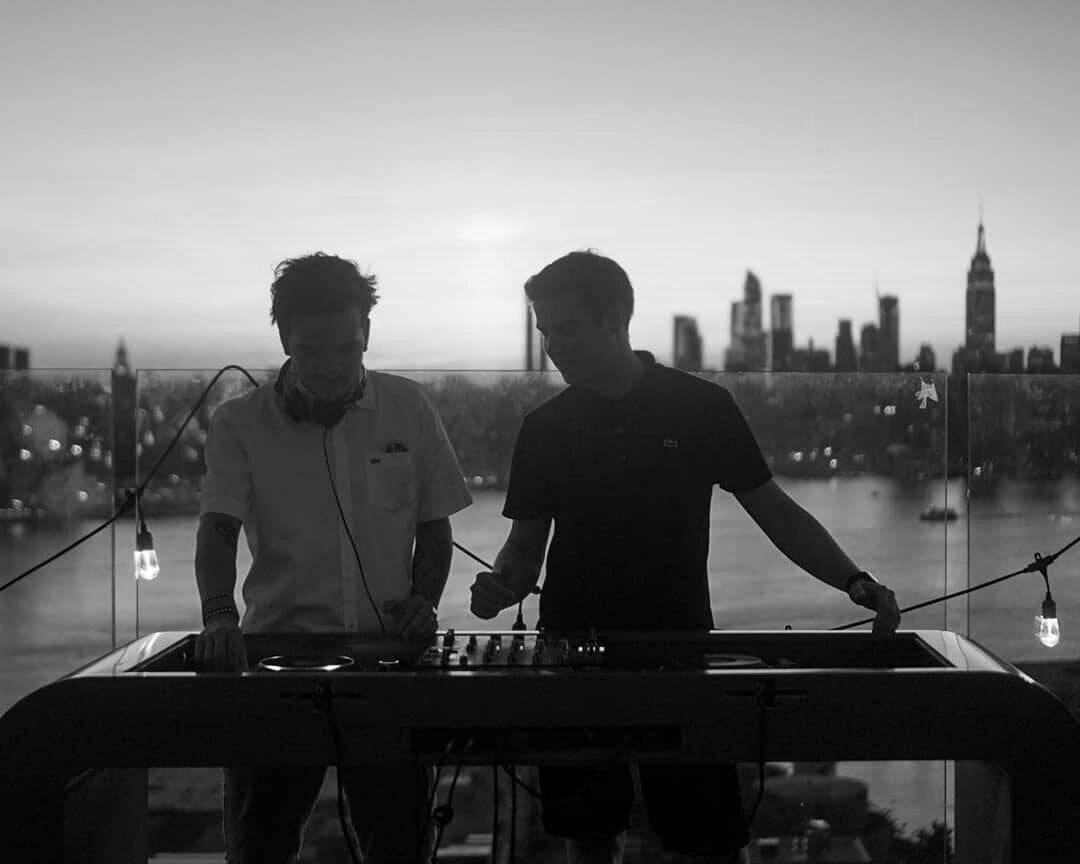 Meet Lászlo x Rogo
Where are you from?
Rogo: I'm from São Paulo, Brazil 
Laszlo: I'm from Budapest, Hungary.
When did you move to NYC?
L: We both moved to NY in 2011.
What made you want to move to here?
R: Laszlo and I came for the same reason. We were both studying at an Creative School in Hamburg, Germany, giving us the option to finish our studies in NY.  So, we came here to finish the course and both ended up finding jobs in the creative field here in NYC. 
How did you meet? Did you come to NY together?
L: We came to New York separately but through the same program. We were classmates and got internships at NY ad agencies.
What is your main day to day gig?
L: We both work as Creative Directors at ad agencies.
How did you get into DJing?
 R: I've always loved music. I like to think that it comes from my father, who also used to be a DJ back in his youth. So growing up around music, instruments and records, gave me a good foundation to then take a step from the dance floor into the DJ booth. But was just recently, around 3 or 4 years ago, that Laszlo invited me to come DJ with him at a party his friend was throwing at Soho Grand Hotel. And since then I haven't stopped. 
L: I was always making mixes for friends, occasionally playing before, and I had gotten into collecting records. So, as we were talking about records at one Caché party, Eric turned to me and asked if I wanted bring some records and open the next week's party. I did and it went so well he told me he wanted me to headline the following week. I said yes, but only if I can bring Rogo, it's much more fun not standing alone in the booth. 
What's your DJ alias?
R: Pordosol, which comes from 'sunset' in Portuguese. 
L: It came from me asking Rogo, how do you say "sunset" in Portuguese? I thought that could be a cool but cheesy DJ name. It was.
How and when were you introduced to Caché Life?
 L: I knew Eric from way before Caché, so I was there at the very beginning when they started it with Eno. 
R: Living in NY I had already heard and been to one or two Caché parties. But it was around 3 or 4 years ago, when Eric invited us to join his parties that I started learning more about the whole culture around it. 
When and where was the first gig you played for Caché Life?
Describe what the night was like.
R: I remember it was at Soho Grand Hotel. Laszlo and I weren't super confident in the decks, but we had been practicing and learning for the previous couple of weeks, so things weren't as bad as it could have been. lol. I remember playing a bunch of disco classics and some Brazilian boogie. I think the dance floor wasn't packed, but neither empty. I had a blast and never stopped doing it. 
L: Yeah, headlining the party was a bigger task, and we wanted to be super perfect about everything. I remember we also played a lot of funk.
How did your relationship build from there? What made you want to play regularly for Caché Life?
R: Caché is more than just a party, it's a community and it feels good to be part of a community. You go to a Caché party and you see the people who are there regularly, helping make it happen. So that's one of the reasons why it's so good to play at Caché. You feel like you're building something, rather than just playing at a party.  
L: Yeah, we wanted to do a residency somewhere and it was the perfect mix of the places and crowd, and Eric always brings a good energy to the party. Also every night is different even at the same spot, as a partygoer you notice that less, but as a DJ it's really fun to see how each night turns out and how you can improve it for the people there.
We also played many different venues like the Output and the William Vale with Caché, so the different kinds of sets in different setting are really fun too. 
Describe the momentum Caché Life started building in NYC's nightlife scene, the community, how is it different from other scenes?
R: Caché Life throws events in all the coolest hotels and clubs in NY, and I think for the past couple of years, it has really grown more and more. Huge rooftop parties, concerts with amazing musicians, art receptions and the list goes on. Caché Life builds culture in NYC's nightlife.
L: Yeah, it's a very NYC party. The kind we were looking for when we moved here. I remember how I felt the first time I heard really good music on a rooftop with the NYC skyline in the background. Pair that with a nice sunset, and you suddenly justified the rent you are paying to live here.
What has been your favorite memory playing a Caché Life party?
R: I have many good memories, but I think playing at Output's rooftop is always going to be one of my favorite ones. That space was such a special place for DJ's and party goers that it makes me happy to know I was part of that. 
L: Also getting the Panther Room for us for a Friday night was magical too. We had a full dance floor for the last song, and a torrential downpour outside. And then, a few months later, Output was gone.
Favorite venue(s)?
Output, William Vale Rooftop, Soho Grand, & Soho House.
How has the music/nightlife scene changed in NYC?
We arrived to NY as the city nightlife was transforming. When we moved here ten years ago, most of going out happened in Manhattan, and then slowly (just like both of us) moved to Brooklyn. I think it's special that Caché can still make those Manhattan parties happen, it's rare to find this vibe in the city anymore. 
What would you like to see happen in the music/nightlife scene?
That's the big question now. We are in the middle of a pandemic lockdown and lot of venues aren't gonna make it. I hope for the best, but NYC nightlife has been taking a lot of hits in the last ten years, and it was just growing to be something really special in the last 3-4 years with cool clubs opening up like Nowadays, Elsewhere and so on. Hope we keep that spirit alive.  
Take a listen to Pordosol's latest Caché Life mix below