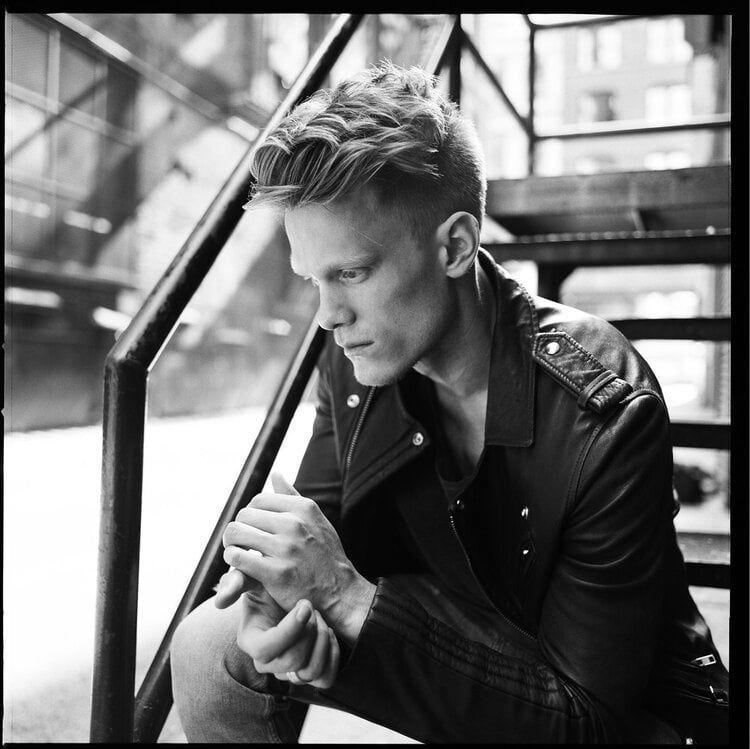 Meet Max
Where are you from?
Max: I'm from upstate NY, from a little town called Mt Kisco. It's a classic kinda boring Westchester town.
When did you move to NYC?
M: I moved to NYC right after I got back from college in the UK. I was 21 and got my first apartment in 
Williamsburg on S 4th St, before it was really poppin and I had a studio loft with three other roommates. It was incredibly crowded but a ton of fun.
What made you want to move here?
M: I wanted to be a professional DJ! I was also modeling at the time so I wanted to be around all the top agencies. Plus my family wasn't too far away so I could still keep in touch.
What is your main day to day gig?
M: Main day to day gig right now is producing a documentary series about sound and how to become a better listener. I'm also working on a podcast around that idea too.
How did you get into Djing?
M: My dad was a big influence on my taste in music. He put me on to Erykah Badu, Snoop Dogg, Toots & The Maytals, Al Green, Steely Dan, The Roots, Felix Da Houscat, Groove Armada, and so many others. I ended up being the kid in high school that everyone wanted to play music off his iPod at parties and one summer when I was 18 I took a DJ class learning to spin vinyl. I fell in love with it and started DJing in the UK at the University of St Andrews. I grew my confidence and skills out there and then moved to NYC to do it in the big leagues. 
What's your DJ alias?
M: Max August is my stage name, it's just my first and middle name. Not the most creative, but it has a certain simplicity to it that makes it recognizable I think.
How and when were you introduced to Caché Life?
M: Back in 2014-15 I was throwing my own DIY events in warehouses and unusual spaces in Brooklyn and back then it was a relatively small community of people who put on events. I had a mutual friend who knew Eric and Eno, who was co-running Caché with Eric at the time, he introduced us at one of the Caché parties a while back. I started following what they were doing and fell in love with their vibe until eventually they started booking me for gigs.
When and where was the first gig you played for Caché Life?
M: I couldn't remember off the top of my head cause it has been so long ago but then I realized it was a party called "Official Local's Night" at The Jane Hotel back in 2015. Caché basically compiled a bunch of NY's local underground parties into a one all-day event. I was producing parties under the moniker "Something Different" and we joined forces with the guys at Club Calco, The Deep, and We In Cloudz to form a super party.
Describe what the night was like.
M: I think it was a Sunday day party if I remember correctly. It was a hot sunny day outside but cozy, dark, and sexy inside – the typical Cache vibe. I was really nervous to play because I had heard of all the other groups and wanted to impress. I think I had one of the opening sets, I remember it going really well, but I mostly remember staying for 4hrs after and dancing all night long. The Jane was THE SPOT back then. I had no idea I'd still be friends with all of those guys to this day, wow, time flies. 
How did your relationship build from there? What made you want to play regularly for Caché Life?
M: First and foremost what kept me coming back is the family nature of Caché. The regular clients, the same faces on the dance floor, and the positive welcoming vibe at every event stood out to me and I wanted to surround myself with that kind of crowd. Plus Eric and Eno were actually nice, loyal, and cared about me as a person which is sadly hard to find in NYC nightlife. Once you find a working relationship like that with mutual respect and love, you stick with it. 
I also noticed that the Caché crowds were very open to new music and would follow you into more experimental realms which was extremely refreshing. I was used to playing at 1 Oak and Avenue where you had to play non-stop hits at a rapid pace. At Caché people know good music and will let you build a vibe without getting impatient. That sort of mindset opens up a lot more creativity and joy when DJing.  
Describe the momentum Caché Life started building in NYC's nightlife scene, the community, how is it different from other scenes?
M: What I like about how Caché has grown is that it's been consistent. Caché is not a flash in the pan party series that comes and goes. It has grown organically with real people, a loyal core, with dependably great music and a distinct vibe. Caché is different from other scenes because its very welcoming and non-pretentious while still maintaining a cool factor and genuine sex appeal. You can make real life friends at a Caché event, which is rare, and folks are very accepting, but you still feel like you've been granted access into a top secret cool kids party. It's kinda hard to explain the feeling, you just need to come to an event and feel it for yourself 😉
What has been your favorite memory playing a Caché Life party?
M: There are so many but I'll narrow it down to two. The 5th Anniversary party at the William Vale rooftop last fall felt like a giant celebration. Everyone you've ever seen at a Caché party was there and the crowd was on fire. I remember almost blacking out during my set cause I was in such a groove and people were freaking out, it was so much fun. And on NYE in 2017 at Sixty Soho was a night I'll never forget. It was an all out 70's Disco dance party and I played alongside one of Caché's favorite bands FKA Jazz. I wore silver sequined tights and everyone was dressed to the nines and going nuts; huge smiles the entire night. And as a bonus, I met my now girlfriend that night which made it extra special.
Oh! I'll also nominate Art Basel last year in Miami playing at Soho House and opening with Eric Essebag  for A-Trak at the giant Scope Art Show. That was an exhausting weekend but one I'll never forget. 
Favorite venue(s)?
M: It's tough but I'd say it's a tie between the Soho Grand Hotel and Le Bain. My favorite previously was Output but they shut down not too long ago (RIP).
How has the music/nightlife scene changed in NYC?
M: It's simply proliferated to a crazy extent. There are so many different parties and niche scenes to get lost in. You could go to five parties a night and still never see it all. The downside is that the average party is diluted and not as special as it once was. Because of that, if you aren't in the know, it can be hard to figure out where to go. But for the most part, it's a beautiful thing that there's such a large appetite to dance, build community, and let loose. It gives thousands of creative people an outlet to be heard. 
I'd say the nightlife scene has also become a lot more "above ground" meaning there are far less illegal warehouse events as the government has cracked down. I definitely miss the wild spontaneity of those days but I'm happy to see more mainstream venues welcoming in these underground movements so everyone can make money the right way.
What would you like to see happen in the music/nightlife scene?
M: A universal "no phones on the dance floor" policy. For those who come to the club to dance, let's actually dance! Too many people hide behind their phones these days to avoid conversation. I'd like to see us all be more open to connecting with others in nightlife. 
Take a listen to Max's latest Caché Life mix below.